AMD's first- and second-generation Ryzen processors have created a huge stir over the last couple of years. That doesn't just mean that users have more choice when they buy processors – it means they've got more to choose from when buying a PC motherboard, too. In one sense, that's great – but it can be confusing, when you're looking for the best PC motherboard. Whether you want the best AMD motherboard money can buy, the best ATX motherboard or a top-notch gaming motherboard, we've got you covered if you want to find the best motherboard.
We're going to guide you through the knowledge needed before you buy the best PC motherboard – and we're going to recommend some of our favourites.
Finding the Best Motherboard: The Basics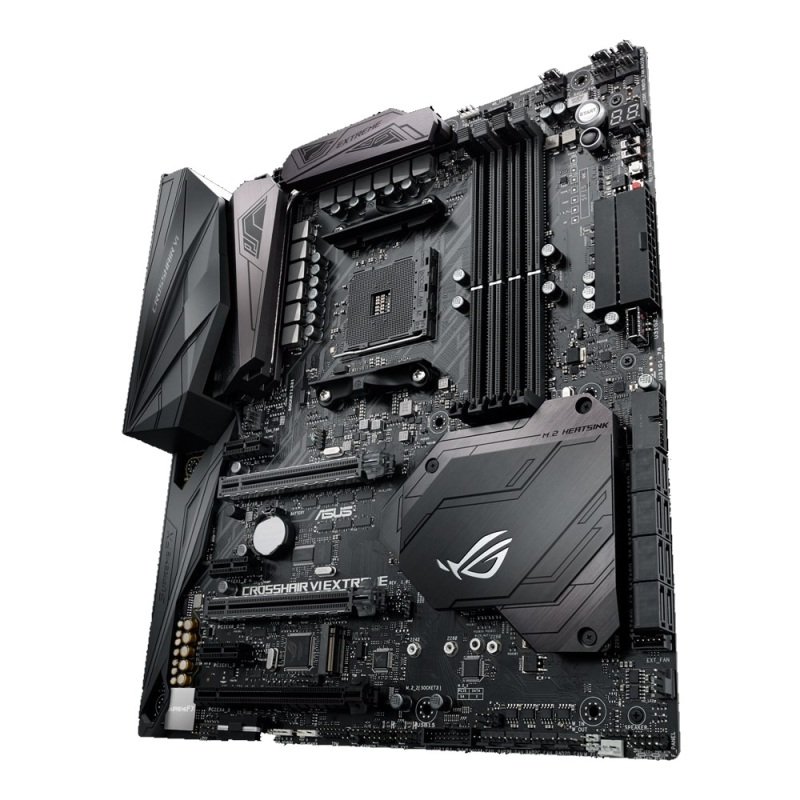 Before you delve into chipsets, slots or sockets, take a look at the basic gear you're going to get on a Ryzen or Ryzen 2 PC motherboard.
The name 'AM4' represents the socket that AMD uses for its first- and second-generation Ryzen chips – including the firm's traditional processors and accelerated processing units (APUs) with Vega graphics.
AMD's AM4 boards are paired with a range of chipsets that work with Ryzen processors and APUs. The chipset you choose will determine the features and abilities that your motherboard will have.
Take the entry-level A/B300 chipsets. These have fewer PCI-Express lanes, don't support dual-graphics, and support fewer SATA ports. They also don't support overclocking and can have fewer USB connections. That's more restrictive, but it still allows for a fine specification if you're only interested in basic computing. Chipsets like that only appear on cheaper motherboards with fewer features.
AMD has several X-branded chipsets designed for gamers. You can have AMD-based dual-graphics with these, and they also support overclocking – even on the entry-level X300 chipset, and always on X370 and X470.
Of course, not everyone will use these features, so spending extra money for a high-end chipset might be a waste. Pay attention to what you're buying – and make sure that you really need it.
And, finally, examine form factors before you take the plunge. An ATX motherboard is usually the most popular and the largest. That means you'll need a bigger case, but it does mean you get the broadest range of features.
Micro-ATX boards are smaller, which means you often get fewer PCI slots and sometimes fewer memory slots. And, at the bottom of the pile, there's mini-ITX. This form factor is designed for building tiny PCs. That's great for portable systems, but it does mean you only get one PCI-Express slot – and only two memory slots. You have fewer routes for storage upgrades on mini-ITX, too.
Get even more information about processors with our guides to AMD Ryzen and Intel Coffee Lake!
Finding the Best Motherboard: Delving Deeper
AMD's Ryzen processors and APUs support dual-channel memory, which means DDR4 sticks should be arranged in pairs – whether your board has two or four slots.
If you're going to be building a basic rig or aren't interested in upgrading, then the best motherboard for you will have two slots. If you're a gamer, building a work system or want to upgrade, then four slots will be better.
Memory speed and capacity also needs to be addressed. Most AM4 boards support 64GB of 3,000MHz memory – enough capacity and pace for almost everyone. However, some cheaper boards may only support 32GB of memory at slower speeds.
Finding the Best Motherboard: Graphics Considerations
Every best motherboard – whether it's ATX, micro-ATX or mini-ITX – will have at least one PCI-Express x16 3.0 slot. That allows for ample graphics bandwidth for one card.
An ATX motherboard will usually have the best selection of slots. However, not every ATX motherboard will have a second PCI-Express x16 3.0 slot that's viable for a second graphics card, so pay attention if you want to add a GPU later.
Smaller slots, like PCI-Express x16 x1 and x4, are used for wireless cards, sound cards, SSDs and other expansion hardware. Every ATX motherboard will have some of these connectors, but you'll have more versatility as you spend more cash.
That's particularly important for micro-ATX and mini-ITX AMD motherboard variants. The former style cuts back on the number of slots, while the latter only has room for one graphics card slot.
Finding the Best Motherboard: Sort Your Storage
If you're building a basic machine, then the vast majority of PC motherboard products will be absolutely fine – they'll all have SATA 3 ports for hard disks and 2.5in SSDs, and many will have at least one M.2 socket, for faster NVMe SSDs.
If you want to use more than one M.2 SSD, or a lot of hard disks, you'll need to look closer. A cheaper AMD motherboard won't have two M.2 connectors, and you'll only get a huge amount of SATA ports on pricier boards with better-equipped chipsets.
Finding the Best Motherboard: Extra Features
If your idea of the best motherboard means loads of lighting, you're going to have to pay more. Only pricier boards, especially those for gamers, tend to have chunky metal heatsinks and RGB LEDs that can be programmed from within Windows.
If you spend more money on the best AMD motherboard you'll find POST displays that serve up codes that indicate which part of your PC has gone wrong. You'll also find power and reset buttons, and colour-coded lights to diagnose issues with main components. They're helpful for tinkerers, but most people won't need them.
Basic and expensive AMD motherboard designs will have key differences at their back panels. Cheaper boards will have fewer USB 3 ports, audio jacks and display outputs. More expensive products will have USB Type-C connections, better audio support and extras like buttons to clear the CMOS or update the BIOS.
Similarly, if you spend more then you'll get better audio circuits and networking hardware. Many expensive boards also come with wireless internet. They'll also have more connections for fans – important if you need a lot of cooling.
Get beyond the board, too, and look at the box. Basic boards won't have much in the way of accessories – you'll get a back-panel cover and a handful of cables. But if you've spent more, you tend to get extra features like wireless extensions, RGB LED lighting strips – and more cables, too.
Don't want to build your own PC? Head here to check out our favourite desktop PC reviews – and to choose your own system!
Finding the Best Motherboard: Our Recommendations
We've picked out our favourite boards in a whole host of categories. Whether you're looking for an ATX motherboard, a gaming motherboard or an AMD motherboard, we've got you covered – and we've also picked out our favourite mini-ITX AM4 boards and our top choices if you want to splash the cash.
The Best Gaming Motherboard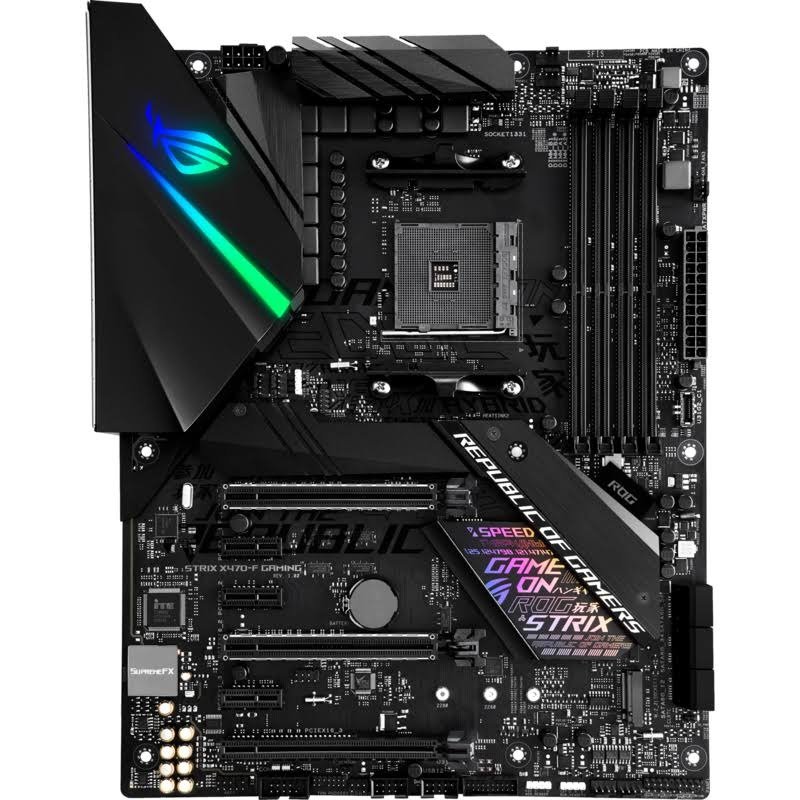 Gigabyte X470 Aorus Ultra Gaming
This £128/$137 AMD motherboard is packed with features. It's got support for 64GB of fast memory and dual-graphics from Nvidia and AMD, and its PCI slots are reinforced with steel. It's got two M.2 connectors, and beefed-up audio circuits. The X470 chipset means it's ready to lock and load Ryzen 2 processors and at the rear it has loads of USB ports and a Type-C connector. It looks the part, too, with RGB LEDs inside beefy metal heatsinks. This board misses out on enthusiast-level features like on-board diagnostics, but the great price makes it a keen option for the vast majority of gamers.
MSI X470 Gaming Plus
MSI's X470 Gaming Plus costs £120/$130 – a little lower than the Gigabyte. It's got a similar array of great features. It supports the latest AMD processors, and it's got three full-size PCI slots, four memory sockets and two M.2 connectors. It's got RGB LEDs, and its Ethernet and audio circuits are beefed-up for gaming. It looks good, and its heatsinks are smaller and subtler than the Gigabyte – a potential boon. It doesn't have USB 3.1 Type-C or support for Nvidia dual-graphics, but relatively few people will be bothered – and that's no surprise considering the price. This is a great, affordable gaming motherboard.
Asus ROG Strix X470-F Gaming
The Asus ROG Strix X470-F Gaming is more expensive, at £185/$215, but this board justifies the cost with a huge range of hardware. It's got the latest AMD chipset, faster memory support than most AMD-based gaming boards, and support for AMD and Nvidia multi-GPU in steel-reinforced slots. There are two M.2 slots, great networking and audio options, and a pre-mounted IO. There are on-board diagnostic LEDs, RGB LEDs and headers to sync the lighting throughout your PC. It looks fantastic, with dark metal used throughout on chunky heatsinks.
The Best Budget Motherboard
MSI B350M Gaming Pro
The MSI B350M Gaming Pro is a micro-ATX board that costs just £72/$85. The smaller form factor means it's ideal for building compact PCs, and it's still got a reasonable range of features: support for Ryzen first- and second-generation CPUs, support for fast memory, and a steel-reinforced PCI slot. It's got USB 3, and red LEDs to light up the rear. It has M.2 as well. It's only got the one PCI slot, so dual-graphics is out, and it doesn't have four memory sockets. However, this board will still support a wide range of components without breaking the bank.
ASRock A320M-DGS
The ASRock A320M-DGS is one of the cheapest AMD motherboard products around, at just £48/$53. It supports the current range of AMD processors, and has ample memory support for affordable home and office PCs. It's got a full-speed PCI slot, a single M.2 connector for fast storage, and it has 7.1 audio. At the rear, you have USB 3.1 ports – but, understandably, no Type-C. The A320 chipset also rules out overclocking and dual-graphics. At this price, though, that's not a concern. This board is very cheap, and it uses micro-ATX, which makes it ideal for building affordable AMD-based rigs for a variety of tasks.
MSI B350 PC Mate
The £75/$75 MSI B350 PC Mate is an affordable AMD motherboard that serves up solid features thanks to its full-size ATX form factor. It's got four memory slots – unlike budget micro-ATX boards – and it has six expansion slots split between PCI-E x16, PCI-E x1 and PCI. AMD-based dual-graphics is possible, and those slots mean you can fit plenty of other expansion cards. It's got an M.2 connector, and USB 3.1 Type-C at the rear and five audio jacks – a rarity on cheaper boards. The MSI doesn't have eye-catching design, but its features make it a great option for full-size, affordable systems.
The Best Mainstream Motherboard
Asus Prime X470-Pro
The Asus Prime X470-Pro is designed for work, but this £151/$177 board has the features and design to excel in every scenario – from the office, to the home, to gaming. It's got full support for Ryzen thanks to the X470 chipset, four memory slots with rapid speeds, and full dual-graphics support with steel slots. It has beefed-up audio, two M.2 slots – including one with a heatsink – and loads of back panel ports, including USB Type-C. It looks great, with RGB LEDs and huge heatsinks. It's a true do-it-all PC motherboard.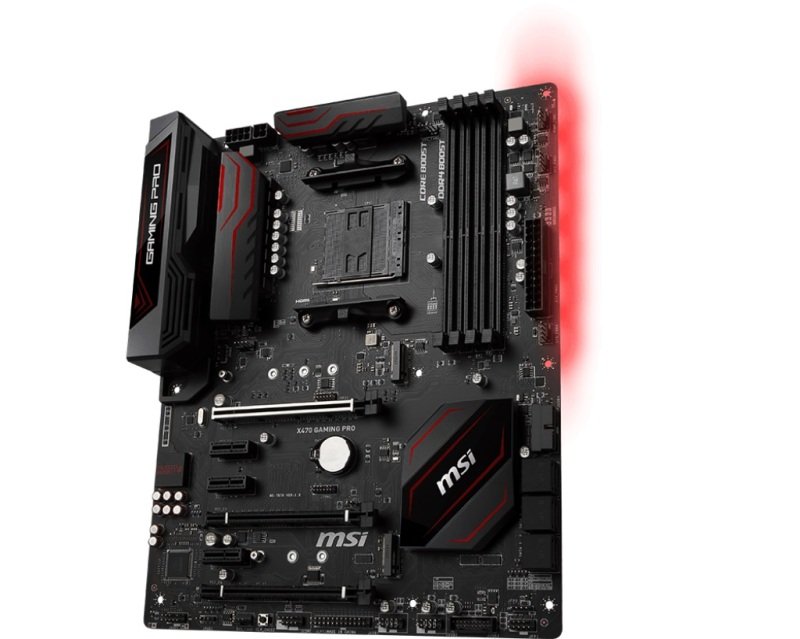 MSI X470 Gaming Plus
The MSI X470 Gaming Plus is a more affordable mainstream AMD motherboard that's still very impressive. It doesn't have the heatsinks or extensive lighting like the Asus, but it does have rapid memory support, dual-graphics options, and lots of smaller PCI-E slots for expansion cards. It's got two M.2 connectors, and still numerous lighting options. At the rear you've got loads of USB ports, and six fan headers deliver ample interior versatility. It only costs £119/$130, so it's a great option for a mid-range machine.
Gigabyte GA-AB350-Gaming 3
The Gigabyte GA-AB350-Gaming 3 is the cheapest mainstream AMD motherboard we've recommend, at £86/$99, but there's a reason why it's here. It's an ATX board, so it's ideal for building mid-range systems, and it has loads of practical features. It's got three PCI-E x16 slots and two smaller PCI-E x1 sockets, and four memory slots. You get an M.2 connector for fast storage, and the right-hand side has a lighting strip. At the backplate you get four USB 3 connectors and five audio jacks, and the various on-board headers are all easy to access during building – a consequence of more modest heatsinks.
The Best Mini-ITX Motherboard
Gigabyte AB350N-Gaming WiFi
The tiny Gigabyte AB350N-Gaming WiFi is affordable thanks to a price of just £102/$109. For that money you still get the usual single PCI-E x16 slot and two memory sockets, and you also get dual-band wireless. The B350 chipset's main limitation is a lack of dual-graphics support, which isn't a concern on mini-ITX. Elsewhere, there's beefed-up audio, RGB LEDs, and a single M.2 socket. There's no Type-C connector, but you get six USB 3.1 ports. If you want a mini-ITX machine without spending loads, this is great.
ASRock X470 Gaming-ITX/AC
The £166/$178 ASRock X470 Gaming-ITX/AC is a pricier AMD motherboard with lots of exciting features. It's got addressable RGB LED headers to kit out the rest of your PC, and SoundBlaster audio. There's an M.2 connector, a Type-C port, and steel around the PCI and memory slots. It's even got a connector to handle water-cooling pumps and, as the name suggests, it has on-board wireless internet. It's one of the more expensive mini-ITX boards around, but it's worth investing – especially if you're a gamer.
Asus ROG Strix X470-I Gaming
The Asus ROG Strix X470-I Gaming is, at £175/$210, the most expensive mini-ITX AMD motherboard we recommend. However, there's a reason. It's got RGB LEDs, an M.2 slot with its own heatsink, and a second M.2 connector at the back of the board. The two memory slots support 3,600MHz DDR4 and the board also has dual-band wireless. The Asus deploys illuminated audio jacks, several USB 3 ports and addressable RGB LED headers. This is the most feature-packed mini-ITX board we've seen.
Need something even more portable? Here are our favourite laptop reviews!
The Best Ultimate AMD AM4 Motherboard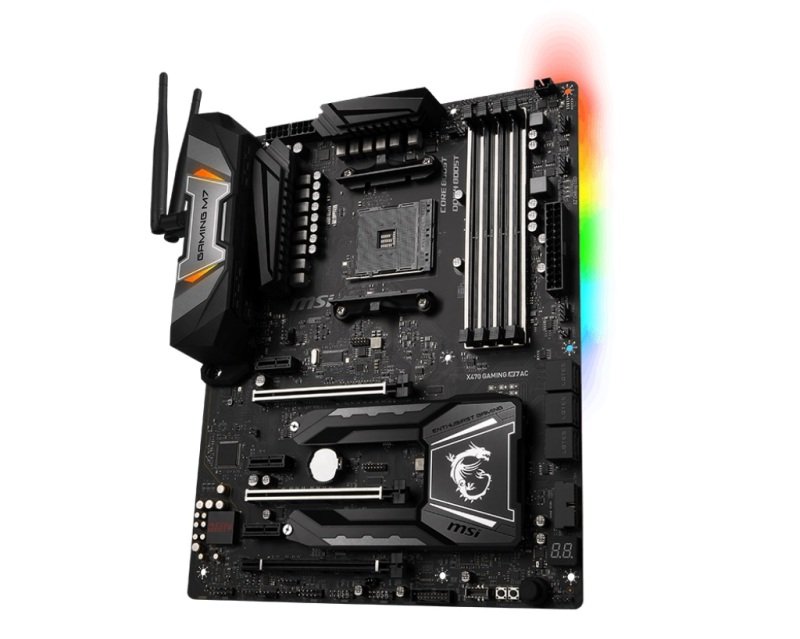 Asus ROG Crosshair VI Extreme
The huge Asus ROG Crosshair VI Extreme may use the older X370 chipset, but this AMD motherboard still supports all Ryzen chips. The board has a vast array of features to justify its £310/$350 price: huge memory and graphics card support, loads of RGB LEDs, on-board diagnostic displays and buttons, two M.2 ports and fantastic audio circuits. Hefty illuminated heatsinks covered the board. Wireless internet is present, too. It's got extra connectors for water-cooling hardware, and at the rear you get LED audio jacks, Intel GameFirst Ethernet, BIOS-tweaking buttons and a pre-mounted I/O shield. It's an incredible board, but fantastic for high-end gamers and tweakers.
ASRock X470 Taichi Ultimate
ASRock's X470 Taichi Ultimate costs £265/$300. The lower price means this AMD motherboard doesn't look as ostentatious as the Asus, but it's packed with high-end features. It's got wireless internet, loads of USB ports – including Type-C – and superb audio. Its PCI slots are steel-strengthened, and there's an extra CPU power connector for overclocking. You get two M.2 connectors, and on-board POST display, power and reset buttons. The only features missing are cosmetic additions or those who want to build record-breaking, enthusiast-level rigs. For everyone else, this is a versatile and reliable high-end board that'll tackle any task.
MSI X470 Gaming M7 AC
The £220/$230 MSI X470 Gaming M7 AC serves up many of the features that we expect from an expensive, enthusiast-level ATX motherboard. It's got wireless internet and loads of USB ports, and both its PCI and memory slots are reinforced with steel. There are RGB LEDs, on-board displays and buttons. There's good connectivity throughout – including options on the backplate to alter the BIOS. You miss out on a few high-end features and the extravagant design of other expensive PC motherboard products, but the MSI is difficult to beat in terms of features.
Click here to check out the latest tech news headlines – or head here to join the conversation on our Facebook and Twitter pages! 
Summary
Reviewer
Review Date
Reviewed Item
Finding the Best Motherboard: The Ultimate Guide to AMD AM4